$1,499.00 Each
THESE PRICES ARE FOR PIANO BLACK, WALUT, or BLACK WALNUT FINISH.
MIDNIGHT CHERRY FINISH IS EXTRA
Description
Description
PrestigeTM 75F Floorstanding Speaker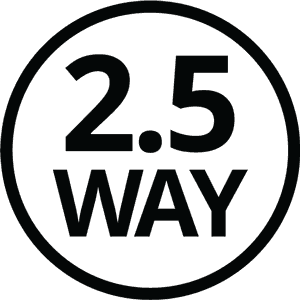 Prestige 75F floorstanding speakers utilize 2.5-way crossover technology to greatly improve off-axis performance (for listeners not positioned directly in front of the sweet spot) and boost deep bass dynamics. This leap in acoustic performance is based in utilizing all three woofers at low frequencies, while the bass/midrange covers voice and musical instruments without the necessity of "crossing over" to the dedicated midrange.
Quick Specs
1″ X-PAL™ tweeter with exclusive Perforated Phase-Aligning (PPA™) Tweeter Lens and Finite Element Analysis (FEA) optimized pole piece assembly.
5.5″ X-PAL™ brushed pure-aluminum bass/midrange driver with overmolded ART™ surround and SHOCK-MOUNT™ Isolation Mounting System.
Two 5.5″ X-PAL™ brushed pure-aluminum bass drivers with overmolded ART™ surrounds and SHOCK-MOUNT™ Isolation Mounting System.
Dimensions: 36-1/4″ H x 7″ W x 10″ D
Brand
Brand
Paradigm
For over 30 years, Paradigm has set the standard for innovation and technology in loudspeaker manufacturing. Precision. Consistency. Long-term reliability. These are inherent characteristics of even the smallest Paradigm component part. The technology and design of Paradigm's speakers represent true innovation in the pursuit of perfection in audio reproduction. The new Prestige Series builds on this history by combining new technologies with smart engineering for astonishing performance at an incredible value. To experience the incredible sound of Paradigm speakers at their best, please visit Overture. If you are interested in purchasing Paradigm speakers, you can trade-in other speakers or electronic component on them by filling out our
Trade-In Form
.